Monarchy versus every other political system
Put all the power into one man's hand and he'll abuse it.
Ever wondered why is the world today so messy and troubled?
Or did you ever wonder which political system does the most damage to a state and which one protects it better?
How about having a look to a very colorful word map dividing the states under Monarchy, Presidential system, Parliamentary system, Military dictatorship?
Have a look to the map below:
(Click on photo to enlarge)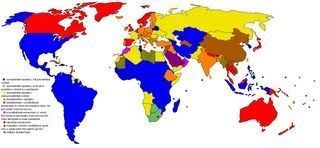 Now, if you don't know which state is which then go here to this huge world map and start digging.
If i could make a quest about this, i would ask you to write down the countries, next to each country,  its political system, and next to that, the goods and bads of that country….considering of course the law, the education level, economic and cultural level, properties, debts, Human rights awards or penalties… etc.
But this isn't a quest and it is only up to you to inform yourself. That's just to tickle your curiosity. I would like though to know what's your saying regarding this subject.
I am not going to write down my whole opinion toward this subject but i will say that i favor Monarchy and that's not because i live in a kingdom.
If you have a look to the world economical statistics, education, income, etc …you'll see that the best ranked are the monarchies.Plus,they are more peaceful than the others.
The best way to understand each Political system is to read its definition and track back its history.
Wikipedia.org is a good place to start with.
It doesn't take long to do that nor it will be hard to understand.
In the moment you understand it, you'll be able to decide which one is better.
---
So, supposing you've got so far and you've done some research, would you care to share your opinion?